The Flowchart is a diagrammatic representation of any algorithm in C programming language.
The Flowcharts are very helpful in explaining and writing programs step by step to others.
Following are the Symbols Used In Flowchart
Since the different symbols are used for showing the different states in flowchart , For example- Input or Output & decision making has the different symbols.
The following table describes all the symbols that are useful in making the flowchart.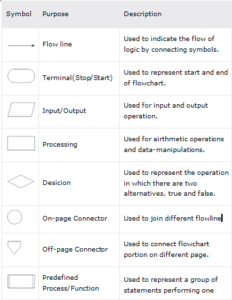 Following are the Examples of flowcharts in programming
1) Drawing a flowchart which add two numbers entered by user.
2) Drawing flowchart to find the greatest among three different numbers entered by user.